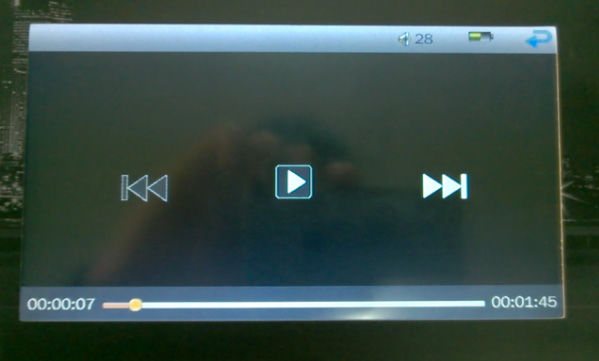 Lo hemos estado esperando desde hace mucho tiempo, ahora es el estándar en la mayoría de los medios, finalmente está disponible para los folletos de video Pixcard. No solamente aporta nuevas características a un soporte ya vanguardista, sino que también impulsa este último directamente a la vanguardia de la tecnología poniéndolo en el mismo nivel que una tableta o un teléfono móvil de último grito.
Las funciones que la pantalla táctil aporta al folleto de video
La pantalla táctil integrará todas las funciones que anteriormente se manejaban con los botones del folleto de video y otras más. Para mostrar las distintas funciones, simplemente toca la pantalla durante la reproducción del video y obtendrás los siguientes iconos superpuestos al video que se está reproduciendo.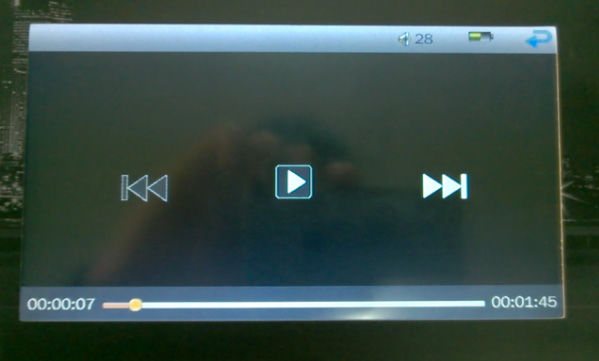 Función Reproducir / Pausa: se encuentra en el centro de la pantalla, una simple presión detiene el video en la imagen en curso, una nueva presión lo relanza desde el punto de detención.
Función Back & Next: en el lado izquierdo y derecho de la pantalla, te permite pasar de un video a otro en el orden en el que se configuraron inicialmente.
Barra de navegación: ubicada en la parte inferior de la pantalla, te permitirá navegar por el video que se está reproduciendo y acceder con un clic cualquier momento de este video. Esta función aporta una ventaja real en comparación con los botones externos.
Volumen: en la parte superior de la pantalla hay un icono de volumen, un toque en este icono abre el nivel de volumen en forma de un cursor que puedes arrastrar o colocar directamente al nivel deseado con un toque.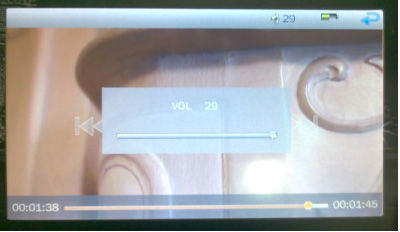 Exploración: la flecha de retorno azul en la parte superior derecha de la pantalla permitirá el acceso a la memoria de la tarjeta y, en consecuencia, visualizar todos los archivos que contiene. Un toque en uno de estos archivos lo mostrará en la pantalla y comenzará la reproducción si se trata de un medio compatible (video, audio o imagen).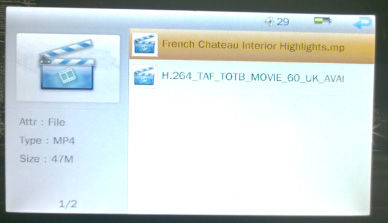 Lo que cambia en el proceso para diseñar tu folleto digital.
Básicamente, es la presencia de botones que será desafiada por las nuevas funcionalidades que ofrece la pantalla táctil. En términos absolutos, ya no son necesarios. Sin embargo, todavía pueden mantener un interés al menos para algunos de ellos. En particular, los botones de selección de los videos. De hecho, la función de exploración no es muy intuitiva para alguien que no está acostumbrado a este tipo de soporte, además la presentación de archivos en la memoria no es la más vendida. Por lo tanto, sería interesante mantener un botón de reproducción para cada video si presentas varios videos, por razones prácticas, pero también porque es un elemento interesante a integrar en el diseño (ver el articulo diseñar correctamente tu folleto de vídeo 3).
Toma en cuenta, por supuesto, que esta función táctil conduce a un costo adicional significativo (alrededor de 2,5$ a 10$ por pieza, dependiendo del tamaño de la pantalla) que puede aumentar significativamente el presupuesto que se gastará en soporte. Por lo tanto, es importante pensar en su utilidad, pero también en la impresión transmitida por el uso de esta función que, más allá de la conveniencia, impulsa tu soporte en términos de imagen de alta tecnología.
Las perspectivas que podrán ser desarrolladas
Existen numerosas perspectivas de desarrollo gracias a esta nueva funcionalidad ofrecida por los folletos digitales. Podemos imaginar rápidamente una breve presentación de video en la apertura del folleto que termina en un menú para seleccionar otros videos o medios clasificados temáticamente, con un simple toque en la pantalla. A largo plazo, podemos considerar la exportación total de un sitio web directamente en el folleto de video.
Demostración de video
Aquí, finalmente, hay un pequeño video que muestra todas las funciones de la pantalla táctil que puedes integrar en tu futuro folleto de video:
No dudes en ponerte en contacto conmigo para obtener un presupuesto o asesoramiento personalizado en el diseño de tu folleto de video
Related posts
Every assignment is exclusive, and the writer will do it from scratch. Even if the writer performed similar faculty paper ...