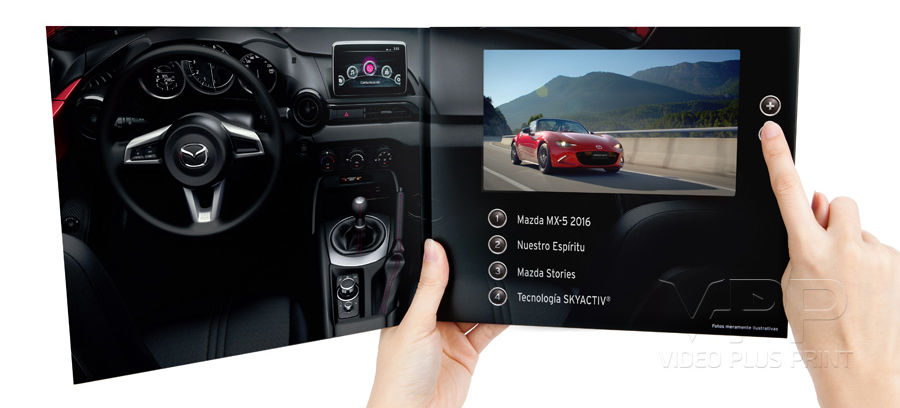 El video es el elemento esencial de tu comunicación a través del soporte folleto de video. Es este que atraerá la atención de tu público, será él que transmitirá la información más importante, será él que hará que el soporte sea vivo y efectivo, y finalmente será él que transmitirá la imagen de tu empresa.
1 – Por cual tipo (s) de video optar ?
Existe una infinidad de formas de presentar algo a través del video, imposible hacer una lista exhaustiva de todas las posibilidades disponibles para el diseño del o de los videos que serán el contenido de tu folleto, pero aquí te presentamos una descripción general de los sesgos más utilizados y más impactantes:
Video informativo — lo que propones: en este estilo de video harás una presentación descriptiva de uno o más de tus productos, tus servicios, tu línea o tus conocimientos, etc., este video debe ser atractivo ya que presenta exactamente lo que quieres venderle a tu interlocutor. Por lo tanto, debe ser parte de un método de ventas global del cual es la primera etapa: el gancho. Puedes estructurarlo en el modelo FAB (hechos, ventajas, beneficios) presentando primero los productos o servicios de manera objetiva (es un automóvil con un motor híbrido y curvas muy redondeadas) luego presentando las ventajas que presentan estas características (que consume menos, su diseño es innovador) y, finalmente, los beneficios que obtendrá el comprador (tu ahorraras dinero, no contaminaras, te desplazaras en un coche futurista). Los expertos en marketing recomiendan encarecidamente centrarse en este último punto, ya que para el comprador el resultado final es lo importante.
Video identificativo — quién eres: En este video presentarás tu empresa, su historia, sus valores, sus equipos. Tendrá como objetivo dar una dimensión humana y mostrar caras a tus lectores todo lo más gratificante posible para hacer que quieran trabajar contigo incluso antes de haber estudiado minuciosamente tu oferta.
Video demostrativo —- lo que has logrado: aquí detallarás tus logros, lo que ya has logrado, quiénes son sus clientes, cómo están satisfechos, darás ejemplos y demostrarás claramente tus conocimientos apoyandote en casos precisos, no dude en detallar el proceso utilizado, contar la historia del cliente para el que trabajaste identificando su problema y por qué medios respondiste. Si puedes tener un testimonio de tu cliente, es una ventaja que puede tener un gran impacto. No es necesario que el cliente hable en el video, un testimonio bien escrito presentado en un momento del video es también muy eficaz.
Estas son algunas formas diferentes que pueden adoptar tu (s) video (s):
La forma clásica: presentada en forma de secuencias cortas de imágenes fijas o videos que están vinculados con una voz off y una música de fondo, será didáctica y mostrará de manera concreta lo que quieres que tu lector vea.
La forma sugestiva: puedes optar por un video mucho menos factual que transmitirá tu mensaje a través de imágenes más o menos sugestivas y por elemento de texto que aparecerá en la pantalla, una música de fondo embellece el video, pero evitaremos la voz en off, las imágenes (como un águila que vuela, por ejemplo) darán lugar a una idea en la mente del espectador que permanecerá con una impresión global sobre tu tema y le dará deseos de saber más y ponerse en contacto contigo.
La forma pedagógica: se trata de poner en escena un animador que se dirigirá directamente al espectador y le explicará de manera precisa todos los elementos que deben ser transmitido mediante vía el folleto de video. El interés de este formato es la personalización de la empresa que se encarna a través de una personalidad física (CEO, técnico, especialista) y que realmente le da la sensación al espectador que se dirige a él precisamente.
2 – ¿Uno o varios videos?
Por supuesto, todo depende del propósito principal del folleto de video y a quién va dirigido, pero en un folleto que pretende ser un folleto comercial que destaque la oferta de una empresa, puede ser interesante seguir el mismo marco que para un sitio web de vitrina clásica, a saber:
el inicio: el primer video a la apertura es una introducción sobre la empresa y lo que ofrece
Quiénes somos ? : es un video de presentación de la empresa en sí, su historia y sus valores.
concepto o productos o servicio: la oferta real de la empresa.
Cada video se activará con un botón separado que también puede llevar uno de los nombres anteriores en función de su atribución.
Para folletos de video tipo invitación, anuncio, lanzamiento, etc., la elección de un solo video podría ser más juiciosa.
Tu o tus videos deben impactar lo más posible, no olvides que no efectuaras una venta con este medio, solo lo iniciarás. El objetivo es suscitar el deseo de finalizar el proceso de negociación. Por lo tanto, el video no debe ser demasiado largo. La recomendación es de entre 30 segundos y 2 minutos. Si tu video debe ser más largo, puede ser conveniente dividirlo en dos videos separados, el efecto de cansancio se neutraliza con el cambio de « capítulo ».
Estos también son consejos generales, es obvio que si tu folleto de vídeo está destinado a servir como un manual de usuario para un producto técnico, no hay límite de tiempo, sin embargo, incluso en este caso, puede ser interesante desglosar los diversos pasos de montaje, por ejemplo, en varios videos accesibles mediante botones atribuidos.
En conclusión, debes tener especial cuidado al diseñar tu video haciendo elecciones estratégicas y haciendo las preguntas correctas para guiarlos. Toma en cuenta, sin embargo, que a diferencia de los gráficos que son definitivos, siempre es posible actualizar tus videos reemplazandolos por otros nuevos simplemente accediendo a la memoria del folleto de video. Entonces, si tu oferta evoluciona, será muy fácil modificar el contenido de tu Pixcard.
No dudes en ponerse en contacto conmigo para obtener un presupuesto o asesoramiento personalizado en el diseño de tu folleto de video.
Related posts
If you're strapped for time and don't have time to create your essay, it's recommended to consider essay writing services. ...