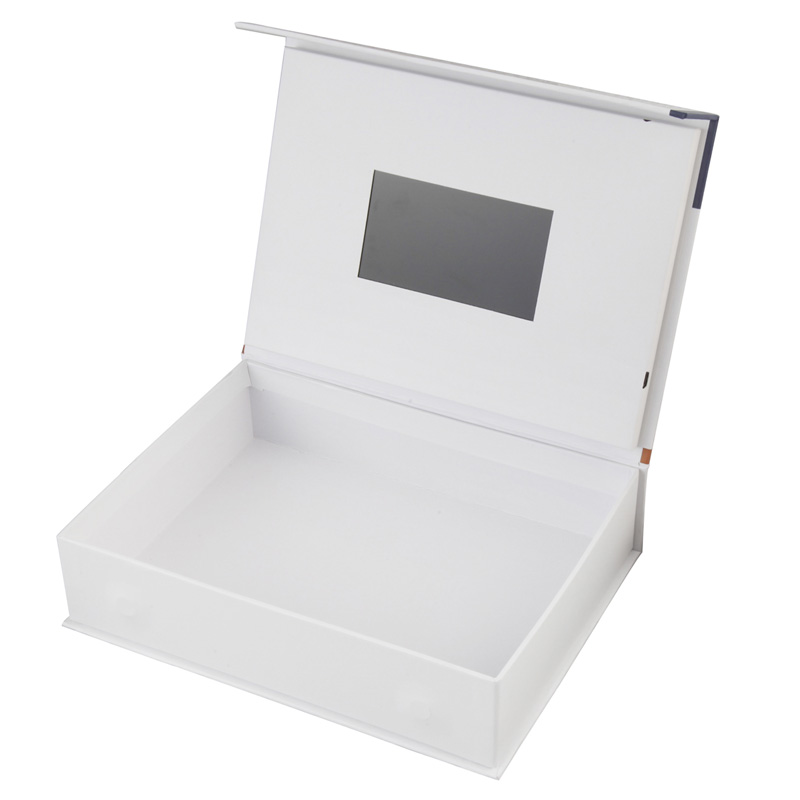 Como resultado directamente de una declinación del follleto de video, la caja de video o la  video box abre aún más el campo de posibilidades en términos de marketing multimedia y abre el concepto al inmenso campo del empaquetado.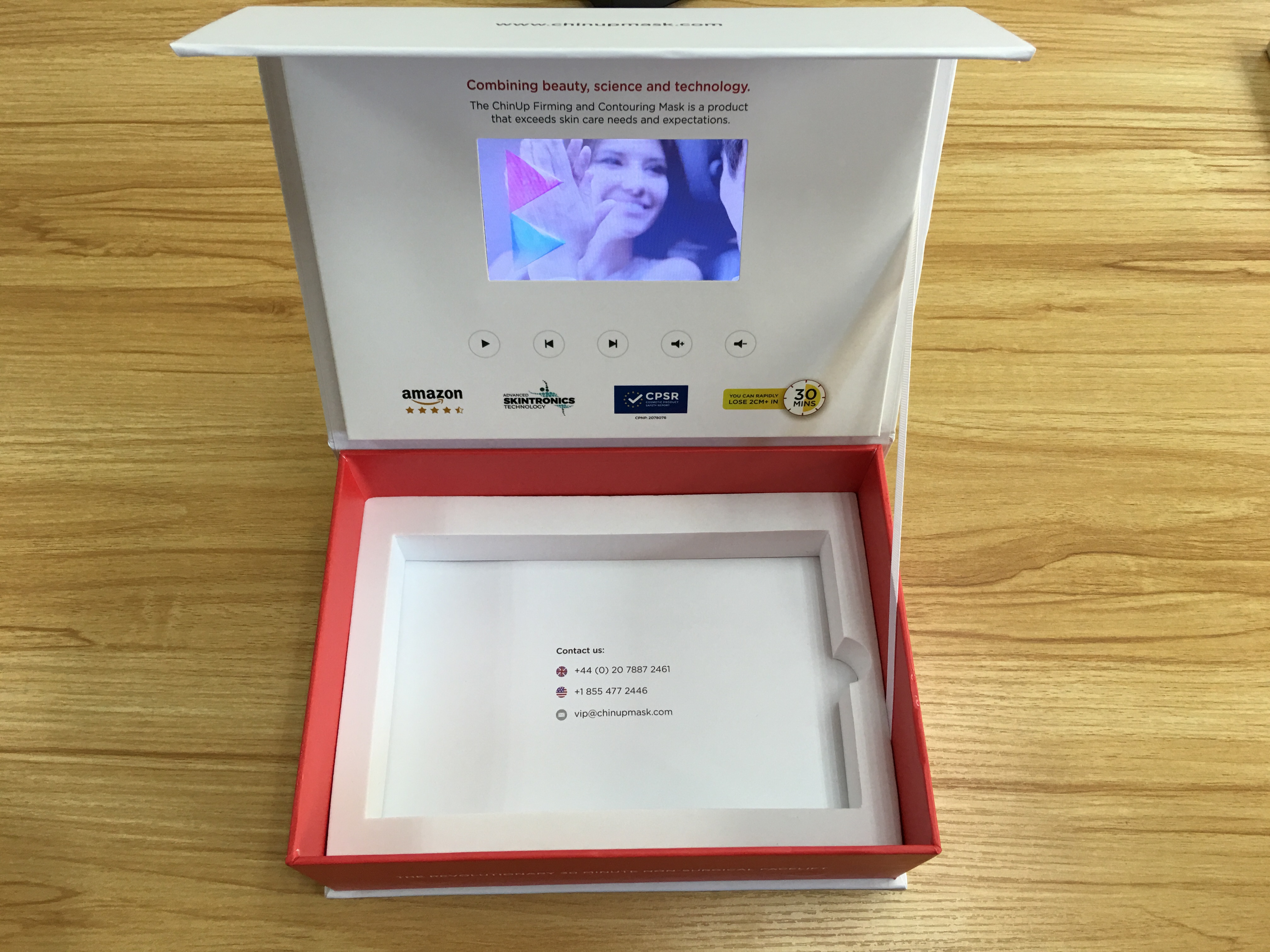 La video box, ¿qué es?
Imagina una caja, puede ser cuadrada, rectangular, redonda, hexagonal, cualquiera que sea la forma, se adaptará con precisión a tus necesidades. Esta caja tienes tus colores, impresos en todos los lados con tus logotipos, tus textos, tus imágenes, en resumen, el diseño gráfico que has creado especialmente para ella. Abres la tapa y descubres el obsequio corporativo que has colocado, bien encajado en un compartimento hecho a la medida, se inicia la pantalla integrada en la tapa. luego inicia un video del CEO de tu empresa, explicando por qué está orgulloso entregar este regalo a sus clientes más leales, detallando el excelente récord del año y agradeciéndoles su participación en este desempeño. Sabes que desde ese momento estos clientes, receptores de este regalo, serán leales por algunos años más …
La video box aparece como la mejor en términos de embalaje para el regalo corporativo, el posicionamiento de alta tecnología  e inmersivo de la experiencia lo convierten en un soporte único y que sin duda producirá un efecto detonante. Pero esta no es la única aplicación posible, por supuesto. Empaquetar un producto tecnológico de alta gama con la posibilidad de tener un manual de usuario en video integrado en la caja del objeto es una idea que se sigue desarrollando con fuerza y que por lo tanto será una ventaja competitiva no despreciable. Las posibilidades son tan amplias que solo quedará operar tu imaginación para encontrar nuevas aplicaciones a este revolucionario concepto.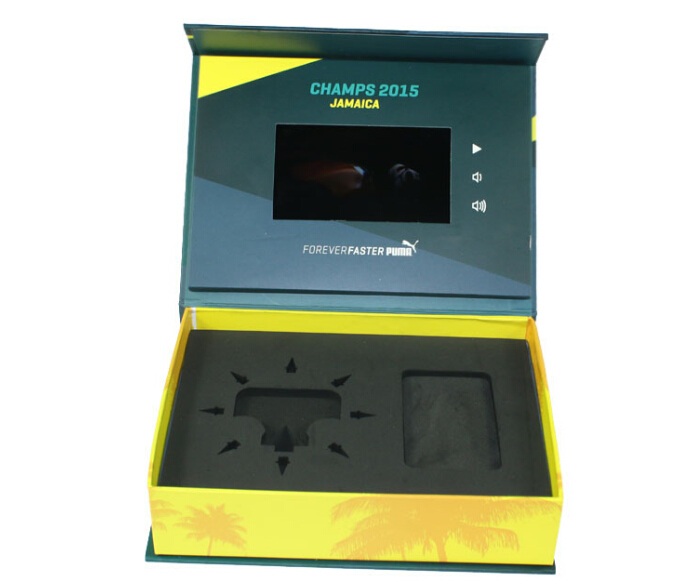 ¿Cuales posibilidades en términos de configuración?
Las posibilidades en términos de configuración son las mismas que para los folletos de video, a los que debemos agregar el aspecto 3D del objeto.
El formato integra 3 dimensiones, asegurate de que la altura de la caja sea perfectamente apta al uso que deseas darle. Si lo configuras para presentar un regalo corporativo, como un bolígrafo, no optes por una altura superior a 5 cm.
El tamaño de la pantalla sigue siendo uno de los puntos más importantes en la reflexión. Es necesario integrar el costo final del objeto sobre el cual impacta mucho, el formato de la box obviamente y la proporción entre el tamaño de la pantalla y este formato para obtener un resultado correcto, una pantalla demasiado pequeña es de hecho una desventaja, el resultado estará directamente relacionado con este formato. por ejemplo, una pantalla de 5 pulgadas en formato A5 le queda muy bien, mientras que en una A4 será un poco pequeña.
La memoria de la video box estará vinculada con la duración del video y posiblemente con su resolución, la cual depende del tamaño de la pantalla. El estándar varía desde 128MB para pantallas de 2.4 pulgadas a 5 pulgadas y 256MB para pantallas de 7 pulgadas y más grandes, lo que le permite incorporar aproximadamente 20 minutos de video.
La cantidad de botones: es una opción estratégica importante, la cantidad de botones puede determinarse por la cantidad de videos que se colocarán en la memoria, ya que permiten esencialmente cambiar de uno a otro o para pausar y reanudar el video que se está reproduciendo actualmente, también deberías considerar los botones de volumen + y -. Para su uso como embalaje corporativo de obsequios, no recomiendo el uso de botones, el embalaje debe ser lo más simple y eficiente posible (por supuesto, debemos tener en cuenta la imagen de la empresa que puede cambiar todo ) y el video bastante corto y único, por lo que no necesita detenerse. Pero como dijimos, las posibilidades son muy amplias, estas opciones quedan por contemplar de acuerdo con el uso que se hará de la box.
El compartimento: el fondo de la caja se puede organizar como lo desees. Puede ser simplemente plano, poner documentos, por ejemplo, o un folleto, o puede formatearse de acuerdo con tus deseos para recibir un objeto: bolígrafo, llavero, reloj, joyería, etc. El compartimento será creado en una espuma compacta según las dimensiones que desees.
Entonces, ¿tiene todos los elementos para tener una idea precisa de lo que podra ser tu caja de video, una pregunta, una duda? contácta nuestros equipos que te ayudarán con los puntos imprecisos, te asesorarán de acuerdo con tus necesidades y te harán una estimación precisa.
He has had a career in IT industry since
Antagonizer is a natural enemy of late season Botrytis in grapes. generic viagra It is the only Trichoderma hazianum of its kind specifically isolated from late season grape skins.
Related posts
If you've ever wondered how to write an essay that is narrative There's no need to worry. Many students struggle ...